Daramic displays lead-acid battery industry leadership at 16 European Lead Battery Conference (ELBC)
September 18th, 2018
Charlotte, NC - Daramic, LLC (http://www.daramic.com), the world's leading manufacturer of high performance polyethylene (PE) battery separators for lead-acid batteries, presented industry leading thought and product solution leadership to the more than 800 delegates of 16ELBC in Vienna, Austria September 4-7, 2018.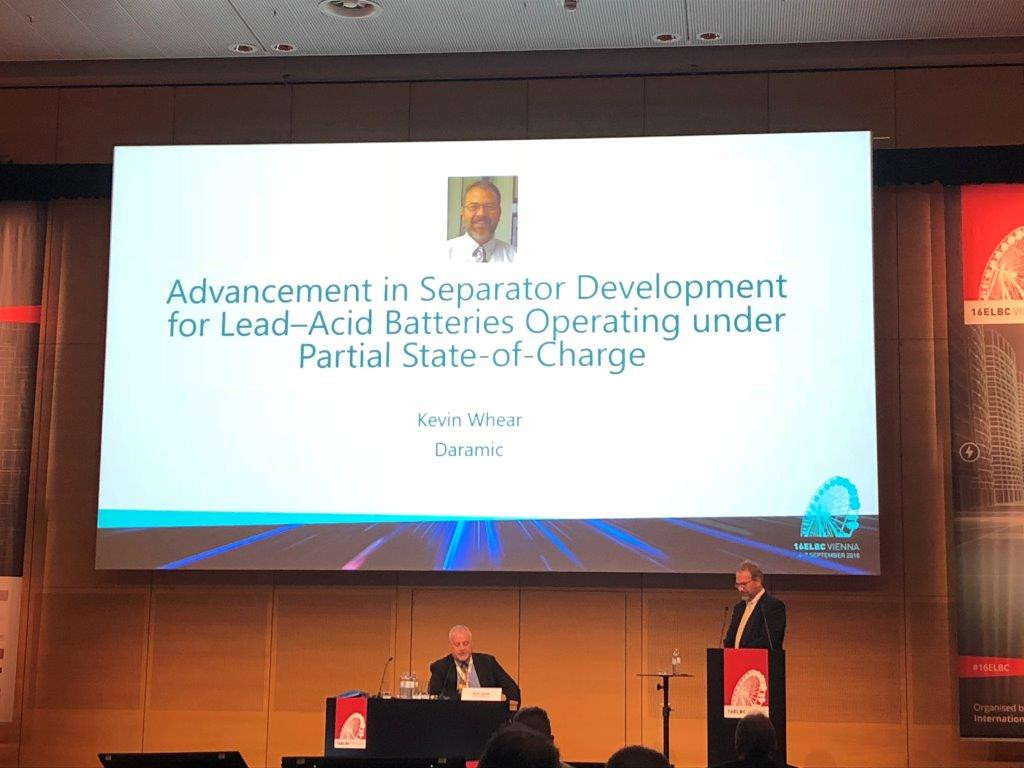 As a leading show sponsor, Daramic presented, exhibited, and shared with the lead battery community progress made in advancing battery performance through novel separator design in a wide range of applications.
During the event, Kevin Whear, VP Technology, tackled challenges in advancing vehicle electrification in a technical presentation entitled "Challenges Associated with Partial State of Charge Operation."Whear shared the important trends that are driving Daramic development stating, "From the various market trends associated with vehicle electrification, renewable energies and fast charging of fork trucks, operating in a partial state of charge is the new normal for lead acid batteries." He outlined the many problems that arise due to these new battery use cases. Whear stated, "The battery is working in a more stringent environment than ever before and operating in a partial state of charge. This has meant challenges on acid stratification, poor charge acceptance, reduced electrical performance of the battery and likely result in shorten life."
For Daramic, these challenges have been addressed through innovative separator developments. In his paper, Whear went in depth in sharing Daramic solutions to these needs including a passive mixing separator, Daramic® RipTide™, and a novel carbon coated separator, designed to improve dynamic charge acceptance inside a flooded lead-acid battery. With these solutions, Whear says, "We have now increased battery life by two to three times in a partial state of charge." Additionally, he elaborated on new testing regimes designed to more effectively measure battery performance while in motion.
These advancements are evidence of Daramic being an industry leader in addressing emerging applications and technical requirements. Dawn Heng, Global Marketing Director says, "Start-stop technology, partial state of charge operation, higher power output, and deep cycling continue to be a driving force among battery development, especially in Europe. Daramic is in-step with OEMs as they develop these advanced electrical systems and we have solutions that can propel the industry to new heights over the next 5 - 10 years."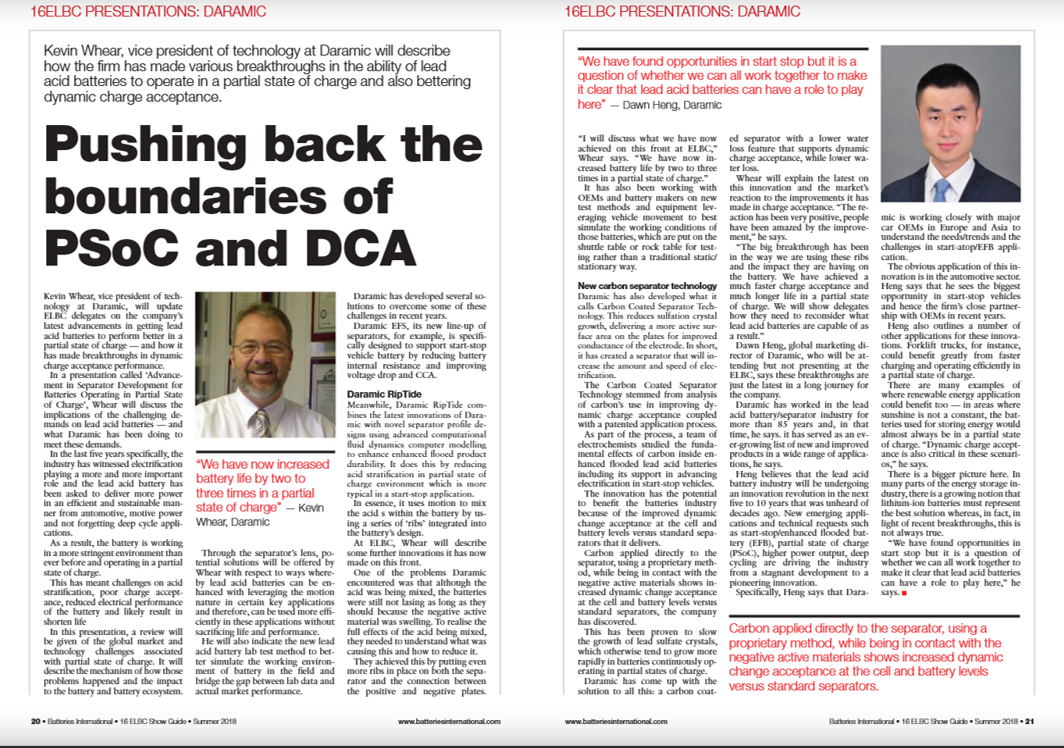 The technical presentation provided a spring board for discussions with several key battery manufacturers and partners at ELBC where solutions were showcased to a global audience. The conference featured presentations highlighting the state of the industry, trends, and new product developments. Over 800 delegates, across 50 countries attended the event, making it one of the industry's largest.
At ELBC, Daramic also announced an investment to increase capacity at their largest European manufacturing plant.
For a detailed overview of the technical presentation and other event highlights, please visit: 16 ELBC Show Guide.
To learn more about the show, please visit: https://16elbc.ila-lead.org/
About Daramic, LLC
Daramic, LLC, an Asahi Kasei Group company, is the world's leading manufacturer of battery separators for automotive, industrial, and specialty applications where today they supply high performance polyethylene and phenolic resin battery separators into the lead-acid battery industry. As the inventor of polyethylene separator, Daramic has led the way in developing innovative technology for the global lead-acid battery industry over 85 years. See www.daramic.com.